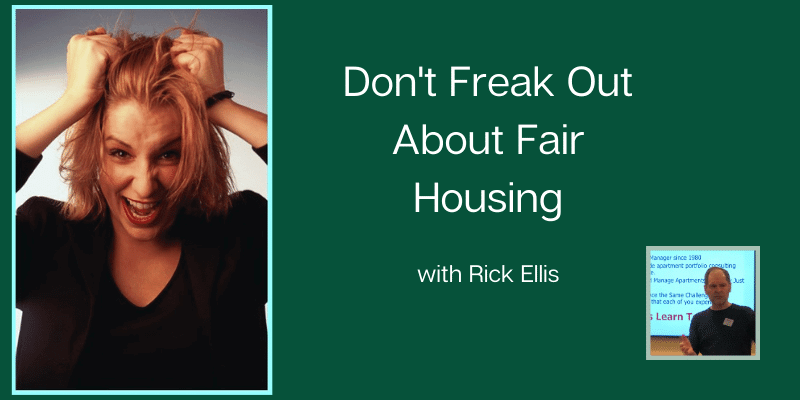 Don't "FREAK OUT" About Fair Housing!
37
37 people viewed this event.
A Live Webinar
Presented By:
Rick Ellis, CAM, CPM
---
FAIR HOUSING – DON'T MISS IT!
What You Don't Know WILL Hurt You!
---
Learn the Facts of the Law…
Celebrate the Spirit of Fair Housing!
Including Disparate impact, hoarding, service animals, and more!
---
Thursday, May 20, 2021 from 9am to 12pm via ZOOM
ONLY $89!
---
Fax : (972) 252-5327 or call Loretta Taylor at: 972-256-7500
An informative, authoritative, and FUN seminar or webinar that takes the fear and uncertainty out of Fair Housing.
Learn powerful leasing techniques that are 100% Fair Housing friendly!
Learn to practice Fair Housing in a way that enhances leasing and encourages renewals!
An important presentation for both management and maintenance
team members.
Protect Your Team from
Discrimination Complaints…
This Fair Housing Seminar or Webinar is a comprehensive overview of essential federal fair housing laws relevant to the apartment industry. Upon completion you will leave with a better understanding of the laws of fair housing. You will be able to apply these laws and regulations to policies, practices and procedures. You will truly be enlightened!

---
The Topics Include:
Why? The Reason for the Federal Fair Housing Law
The Rules of Fair Housing – What "No Discrimination" Means
The Seven Federally Protected Classes
Other Protected Classes by Your State and Local Government
The History of Fair Housing (More interesting than you think!)
WHO … Must Follow the Fair Housing Rules
WHEN … Does Fair Housing Apply
Basic Types of Discrimination – The BIG '3'
Eight Fair Housing Traps to Avoid
Fair Housing Do's and Don'ts
Fair Housing Penalties – What can happen if you break the Fair Housing rules
What to do When Prospects Ask Discriminating Questions
Fair Housing for Maintenance – Specific "Extras" for Our Service Techs
When Prospects Ask About Security
Service animals
Disparate Impact
Request for special accommodation
Harassment
9 Rules for Enforcing Occupancy Standards
Fair Housing Compliance "To Do" List
Fair Housing Resource List
AND, an Open Forum for All Your Fair Housing Questions. Try to stump the expert!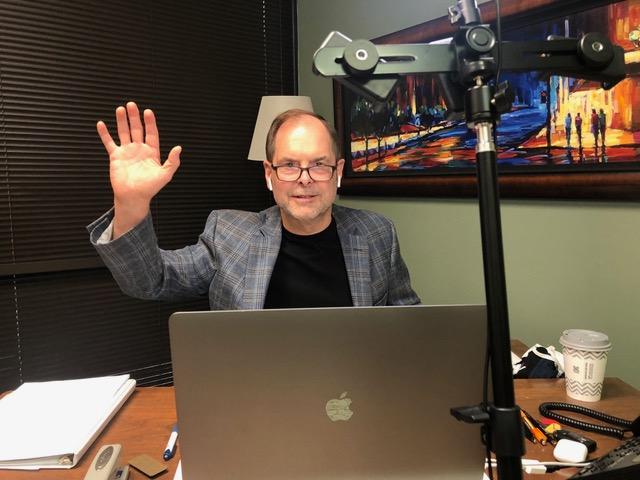 Fax : (972) 252-5327 or call Loretta Taylor at: 972-256-7500
REMEMBER: Thursday, May 20, 2021 from 9am to 12pm
We look forward to seeing you!
You May Also Enjoy Being A Part Of: